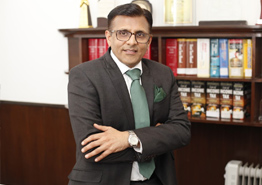 Verendra Kalra
Managing Partner
A fellow member of the Institute of Chartered Accountants of India, Verendra Kalra is the firm's Managing Partner. Having qualified as a CA in 1990, he has under his belt 30 years of multi-layered, multi-sectoral, top-of-the-pyramid post qualification experience. After serving as Sr. Partner for 21 years in M/s Nangia & Co. Chartered Accountants, till July 2014, he floated his own firm, M/s Verendra Kalra & Co. and is since then leading the firms practice.
His extensive testimony experiences include client-facing roles across sectors including manufacturing, banking, insurance, PSUs, educational, NPO's/NGO's among others. Besides his grasp on Assurance and Internal Audits, he has considerable expertise in dealing with consultancy and representation in the sphere of Income Tax, IT Search and Seizure cases, representing the clients before Appellate Forums and the Settlement Commission. He also specializes in cross border transactions, international tax structuring, litigations and transfer pricing. On the Indirect Taxes front, his expertise in Service Tax and GST matters include advising and representing individual and corporate clients, providing support and strategic advice on a real time basis.
Verendra follows a clinical and professional approach to navigate the firm's growth through the complex global business environment. An innovator and designer at heart, he is instrumental in designing, conceptualizing and successfully implementing the firm's top of the line internally developed ERP software, SOP's, quality control standards and internal controls processes.
He is an articulate and eloquent speaker, contributing at several public forums by providing thought leadership on diverse topics and contentious issues relating to Domestic and International Taxes, the Union Budgets, IFRS, IAS and the Accounting Standards among others. He is a regular speaker on behalf of the ICAI/Other associations at seminars and has delivered over the years more than 75 lectures on various topics of professional interest.
With the aim and passion to give back to the society, he has floated his own charitable entity 'VKC Foundation' and has also served/is serving on the boards of several acclaimed and esteemed organizations, corporations and NGOs. His affiliations outside the firm reflect his commitment to his family, upliftment of the economically backward and supporting education of the underprivileged children.
Besides being a fitness freak, an ardent reader and avid photographer,Verendra also loves bird watching. Office treks and off sites are planned half yearly under his watch and expert guidance owing to his enthusiasm for nature and hiking.
Career and Qualifications
Graduate of the Institute of Cost and Works Accountants of India with 13th all India rank.
Diploma in the field of Information Systems Audit (ICAI).
Diploma in the field of CAAT (Computer Aided Audit Tools).
Certificate course in IFRS.
Publications co-authored for ICAI
The basic draft of the Guidance Note published by the Research Committee in 2004 on Accounting by Schools.
The basic draft of the Technical Guide published by the Internal Audit Standards Board, ICAI in 2010 on Internal Audit of Educational Institutions.
The basic draft of the Standard on Internal Audit (SIA) -17 published by the Internal Audit Standards Board, ICAI in 2010 on Consideration of Laws & Regulations in an internal audit.
Positions served/ serving on the boards of Professional Bodies
Dehradun Branch of CIRC of ICAI for almost 10 years (1995-2005) and also served as the Chairman in 2003.
Internal Audits Standard's Board of ICAI, New Delhi in 2009-10.
Delhi Chapter of the Institute of Internal Auditors of India (IIA) in 2012-13 to 2014-15.
Member of the 4i committee of Bombay Chartered Accountant's Society in 2014.
Member of The Institute of Internal Auditors
Co-opted member of the Internal Standard Baord
Positions served/ serving on the boards of Trade associations, NGO's/Government bodies as member/advisor/ special invitee
Currently the Chairman of PHD Chamber of Commerce and Industry, Uttarakhand Chapter since 2019. Served as Co-Chairman for more 8 years.
Nominated member on the Startup Council of the Uttarakhand Government since 2019.
Nominated member on the MSME Facilitation Council (a Quasi-judicial body) of the Uttarakhand Government since 2019.
Panel member on the Investor's Grievances Redressal Committee of BSE -Uttarakhand since 2018-19.
Trustee of VKC Foundation.
Served as member of the Dehradun Round Table for 7 years and headed the Table twice as Chairman in 2005 & 2006. Significant initiative during the tenure was carrying out rebuilding all over Dehradun of 7 dilapidated Government School Buildings.
Serving as Chairman of 41ers Association of India for last 6 years.
Was a Governing Body member with the IMA Blood Bank, Dehradun in 2010 &2012.
Member of the Audit Committee of Doon Club for 2017-18.
Member of the Doon Citizen Council since last more than 15 years.
Member of the E-rotary Club Dehradun since last 7 years.
Active in assisting Angel funds for building the eco system for startups in Uttarakhand.
Apart from this, member of various other professional and other trade bodies and NGO's.