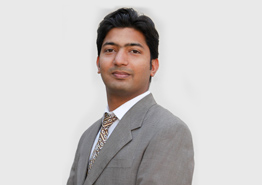 Shikhar Tewari
Partner-Internal Audit
Shikhar Tewari is Member of Institute of Chartered Accountants of India since 2011 and also holds a Master's degree in Commerce. He did his articleship under Mr. Verendra Kalra and post qualification served as Audit Manager in the firm. In 2016, he was inducted as a Partner, Internal audit owing to his 10 years' of post qualification experience and involvement in Statutory & Internal Audits, Due Diligence Reviews and other areas of the organization's Management Assurance discipline. He caters to clients in Industries like banking, insurance, oil & gas, manufacturing, education, BFSI, hotel & tourism etc. He also handles individual and corporate taxation.
Over the years, he has gained expertise in Internal Audits of various private sector organizations specially in education, manufacturing and hospitality sector. He has extensive experience in advising and working closely with clients in identifying key concern areas and formulating controls to mitigate risk. He has assisted in implementing and improving compliance, governance and risk management-related processes and controls for our clients. Based on the experience gathered by him over the years, he strongly believes that enhancing internal controls and streamline processes can minimize risk and optimize value. Based on his expertise towards analyzing and building system and processes, he has advised organizations develop standard operating procedures with best business practices most suitable to their size and needs. He has been actively involved in the execution of number of outstation assignments and has emerged as a strong pillar in our assurance practice.
He has also immensely contributed in development and digitalization of our audit work methodology which has added priceless value to our client satisfaction. He has also conducted and mentored numerous in-house seminars and training workshops.