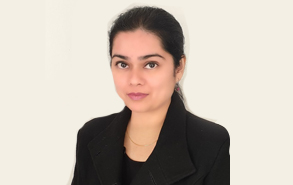 Ritika Pundir
Partner- Direct Taxation
A Chartered Accountant by qualification, Ritika is currently heading the Direct Tax division of the firm. She handles the firm's pivotal tax assignments, assisting with appeals at appellate forums, search and survey representations, and the Income-tax ever ongoing researches & opinions. She advises our clients on different areas of tax and is involved with exploring the day-to-day challenging areas in domestic and international taxation. An advocate for the firm inside and out, Ritika believes in leading by example, heading a team of professionals in the Domestic and International tax divisions of the Firm.
She possesses a passion for academics and topped while graduating from her school, Convent of Jesus and Mary, Dehradun. Apart from her fellowship with ICAI, she holds a Bachelor's degree in Commerce. She completed ICAI's post qualification certification course on concurrent audit of banks in 2014 and proceeded to obtain her LL.M degree from Siddharth Law College, Dehradun in 2016.
An avid reader and learner, with ease in adopting to new technologies and software, Ritika takes up VBA programming and development of tools and templates for her tax division as a hobby. An animal enthusiast on a personal front, she is actively engaged with two committed animal welfare organizations of the city and firmly believes kindness towards animals and humility in character are the core areas of a successful life.