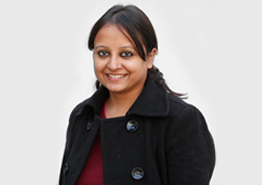 Priya Agrawal
Partner- Assurance
Priya qualified as a Chartered Accountant in 2010 and worked for 4 years with Ernst & Young, Gurgaon which includes her article ship with the firm. Her stint at EY helped her gain experience in statutory audit and limited reviews of multinational companies and leading companies in the manufacturing sector.
She has a strong academic background which includes schooling from Delhi Public School and graduation in B.Com (H) from Lady Sri Ram College (Delhi University).
She shifted base to Dehradun in 2012 and joined our firm as an Audit Executive. Since then, she has been involved in the internal and statutory audit of some of our highly reputed clients. Over the years, she has gained immense experience in handling audit assignments of clients in the education and hospitality sector. She has also been continually involved in working for specialized assignments like preparation of accounting manual for renowned manufacturing concerns, drafting of opinion on the statutory and legal impact of activities of leading educational groups, preparation of fixed asset registers for entities with assets exceeding ten thousand line items, advisory on implementation and audit of internal financial controls, to name a few.
She was inducted as a Partner in our firm in 2016 and since then heads the Assurance practice overlooking the audit and related assignments of the clients under her custodianship.
Over her professional years, Priya has worked and evolved continuously under the Managing Partner to advise clients from all business and economic sectors with complex financial accounting and auditing issues. She has substantially contributed to internal research in her vertical, including the development of office templates and guidelines in relation to Audit practices, Accounting Standards, IFC implementation etc
On the personal front, she enjoys spending quality time with her two year old. She finds her recent role as a mother immensely fulfilling and spends most of her personal time in her daughter's caretaking. Other than this, she is an avid reader and enjoys reading books of varied genres whenever she gets the time. She also enjoys travelling, exploring new places and trying different local cuisines. Simple living, high thinking is her motto in life.